Menu
•

Home
•

"Sinjin" Terrell
•

Musicals & Plays
•

The Stars
•

Stars in the Making
•

Leading Roles
•

Supporting Casts
•

Concerts
•

Back Stage
•

The Tent and Grounds
•

Stories and Tales
•

Press Coverage
•

Facts and Trivia
•

Forum
•

Acknowledgements
---

Louis Armstrong
August 17, 1964 at 8:30 PM
July 12, 1965

From a New Orleans boys' home to Hollywood, Carnegie Hall, and television, the tale of Louis Armstrong's life and triumphant six-decade career epitomizes the American success story. His trumpet playing revolutionized the world of music, and he became one of our century's most recognized and best loved entertainers. In the 1960's, Armstrong spent the final decade of his life in the same way that he had spent the four previous -- entertaining audiences throughout the world. In 1971, he died of a heart attack in New York City.




---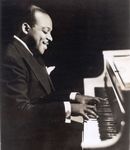 Count Basie
July 5, 1965
August 30, 1969
Count Basie was a leading figure of the swing era in jazz and, alongside Duke Ellington, an outstanding representative of big band style. After studying piano with his mother, as a young man he went to New York, where he met James P. Johnson, Fats Waller (with whom he studied informally), another pianist of the Harlem stride school. By the end of the 1930s, the Count Basie Orchestra had acquired international fame with such pieces as One o'clock Jump (1937), Jumpin' at the Woodside (1938), and Taxi War Dance (1939). He made the first of many tours of Europe in 1954, visited Japan in 1963, and issued a large number of recordings both under his own name and under the leadership of various singers, most notably Frank Sinatra. In the mid-1970s, a serious illness hampered his career, and in the 1980s he sometimes had to perform from a wheelchair.



---

Dave Brubeck
August 3, 1964
June 21, 1965
August 17, 1970

In 1958, the combination of Brubeck with drummer Joe Morello, double bassist Eugene Wright, and alto saxophonist Paul Desmond quickly achieved an overwhelming popular success as the Dave Brubeck Quartet. The Quartet's experimentation with time signatures unusual to jazz produced works like Blue Rondo a la Turk and Take Five, introducing millions of enthusiastic young listeners to unexplored regions of jazz. The group recorded and performed together continuously through 1967.

(Dave Brubeck died on December 5, 2012 at age 91.)


---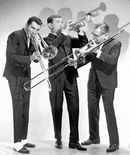 The Dukes of Dixieland
July 27, 1964 at 8:30 PM
July 4, 1965 at 4 P.M.

Jazz in an American tradition celebrated by the Dukes of Dixieland during every performance. The group has maintained its preeminent position in its art for four decades and is the oldest continuallly performing jazz ensemble in New Orleans. From the original group founded in 1949 by the Assunto brothers, trumpet player Frankie and trombonist Freddie, to the current members who keep the sound alive and growing, the group has kept its determination to bring to their audiences the very heart and soul of New Orleans.



---

Duke Ellington
August 31, 1964 at 8:30 PM
July 24, 1961
August 20, 1962
August 12, 1963
July 19, 1965
July 11, 1966
August 14, 1966(at 4 P.M.)
July 1, 1968
July 27, 1969

Considered one of the greatest jazz composers of all time, Duke Ellington had an enormous impact on the popular music of the late 20th century. Among his more than two thousand songs are such hits as "In A Sentimental Mood," "Sophisticated Lady," "I Got It Bad And That Ain't Good," and "I'm Beginning To See The Light." For almost fifty years he toured the world as a band leader and piano player. Throughout the 1950s and early 1960s he began performing with a number of the other great musicians and composers of the time, making albums that included DUKE ELLINGTON AND JOHN COLTRANE (1962), MONEY JUNGLE (1962, with Max Roach and Charles Mingus), and DUKE ELLINGTON MEETS COLEMAN HAWKINS.



---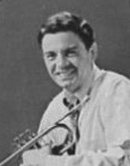 Maynard Ferguson
June 28, 1965
Maynard Ferguson (born May 4, 1928 in Montreal, Quebec) came to prominence playing in Stan Kenton's orchestra at age 16, before forming his own band in 1957. He is noted for being able to play accurately in a remarkably high range.

After leaving the Stan Kenton Orchestra, Ferguson began playing outside North America, with extended periods in England and India, before returning to the U.S. in 1974. His recording of "Gonna Fly Now", the theme from the movie Rocky won him a Grammy nomination in 1978. Since, Ferguson has started many of his own big bands, including his fusion band High Voltage and his latest big band Big Bop Nouveau.

Maynard Ferguson is one of the handful of musician/bandleaders to survive the end of the big band era and Rock and Roll. While never a household name, and with little popular success, excluding "Gonna Fly Now", he demonstrated a remarkable ability to adapt musically. His albums show a progression from big band swing, bepob, cool jazz, latin, jazz/rock, fusion with classical and operatic influences. He enjoyed a remarkable resurgence in the 1970's when he embraced jazz/rock. Though this phase is often derided by jazz purists, it attracted a new generation of young school musicians to jazz.

The economic unviability of large bands in the late 1960's served as an impetus for Ferguson to relocate to Europe and Asia, particularly England and India. Ferguson gained some minor notoriety when in Amsterdam he joined with a group of musicians and artists advocating the use of drugs for mind expanding purposes. This appears to have been a brief dalliance, and in keeping with the mood of the times.

After Maynard Ferguson's return to the U.S. in the 1970's he was able to sustain the big band experience on tour by recruiting talented college musicians. From at least the late 1990's continuing on through at least 2004, Ferguson has supported music in secondary schools, often playing in high school auditoriums and conducting master classes. Though touring with a lean band of 10 - 12 musicians, Maynard is a crowd pleaser with dedicated fans. He has been known to keep the band riffing on the final tune while he takes the time to shake the hand of every cheering fan in the audience.


---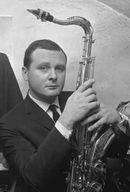 Stan Getz
June 14, 1965
August 5, 1968
Stanley Gayetsky was born on February 2, 1927 in Philadelphia, Pennsylvania. He joined Stan Kenton's big band in 1944; played with Jimmy Dorsey in 1945; and played with Benny Goodman in 1945 and 1946. He started becoming more popular when he was a part of Woody Herman's Second Herd from 1947 to 1949. He emmigrated from the United States and from 1958-'61 lived in semi-retirement in Denmark. Stan Getz returned to America in 1961. He soon recorded "Focus", an adventurous album (and his personal favorite) that matched his tenor with strings arranged by Eddie Sauter. Then, he got together with Brazilian composer Antonio Carlos Jobim and singers Joao and Astrud Gilberto. This is when he introduced "Desafinado" and helped make bossa nova, a mixture of jazz and samba, more popular. He recorded "The Girl from Ipanema" in 1963, which reached the top of the charts in 1964. His quartet played more straight ahead music beginning in 1964.



---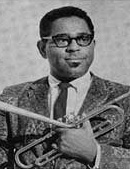 Dizzy Gillespie
August 15, 1966 at 8:30 PM

Dizzy Gillespie (1917-1993) was an American trumpet player, composer, and bandleader. With Charlie Parker and Thelonious Monk, he cofounded the bebop or bop jazz movement. This movement revitalized the harmonic, melodic, and rhythmic character of jazz. Gillespie pioneered in the development of Afro-Cuban jazz, which combines bop improvisations with Latin rhythms. Many of his compositions are jazz standards, including "A Night in Tunisia," "Groovin' High," "Con Alma," "Salt Peanuts," "Blue 'n Boogie," "Woody 'n You," and "Birks Works."

Gillespie was born in Cheraw, South Carolina. His full name was John Birks Gillespie. From 1937 to 1944, he played in the big bands of Cab Calloway, Earl Hines, Billy Eckstine, and others. Gillespie was a leading figure in the small groups that helped develop bop in the early 1940's. In 1946, Gillespie formed a big band. His original style and brilliant technique established him as a vital new force in music. In 1956, his band was the first to be sponsored on an international tour by the United States Department of State.



---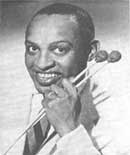 Lionel Hampton
August 29, 1966
There is some confusion about the year of Lionel Hampton's birth, which has sometimes been given as 1908. Around 1916 he moved with his family to Chicago, where he began his career playing drums in various lesser bands. In the late 1920s he was based in Culver City, California, where he worked in clubs and took part in several recording sessions (1930) with Louis Armstrong, who encouraged him to take up vibraphone. Hampton soon became the leading jazz performer on this instrument, and achieved wide recognition through his many film appearances with Les Hite's band. After playing informally with Benny Goodman in 1936 he began to work in Goodman's small ensembles, with which he performed and recorded regularly until 1940; as a result he became one of the most celebrated figures of the swing period, and his resounding success allowed his to form his own big band in 1940.

Hampton performed in the Royal Festival Hall, London, in 1957, and played at the White House for President Carter in 1978; during the same year he formed his own record label, Who's Who in Jazz, to issue mainstream recordings. In the mid 1980s his band continued to draw capacity crowds throughout the world. Hampton was honored as alumnus of the year by the University of Southern California in 1983.

Hampton was not the first jazz musician to take up vibraphone (Red Norvo had preceded him in the late 1920s), but it was he who gave the instrument an identity in jazz, applying a wide range of attacks and generating remarkable swing on an instrument otherwise known for its bland, disembodied sound. Undoubtedly his best work was done with the Goodman Quartet from 1936-1940, when he revealed a fine ear for small-ensemble improvisation and an unrestrained, ebullient manner as a soloist. The big band format was probably better suited to the display of his flamboyant personality and flair for showmanship, but after a few early successes, especially the riff tunes Flying Home, Down Home Jump, and Hey Bab-Ba-Rebop, the group was too often content to repeat former triumphs for its many admirers. Hampton has at times also appeared as a singer, played drums with enormous vitality, and performed with curious success asa pianist, using only two fingers in the manner of vibraphone mallets.


---

Woody Herman
August 10, 1964 at 8:30 PM
August 30, 1965

In 1943 the Woody Herman Orchestra was becoming the Herd. This band was later renamed the First Herd. Duke Ellington influenced Herman's band during this period. In 1959 he organized his 4th "Herd Band", the Thundering Herd. The band was a success through the 1960's. He toured with them throughout the 70's and 80's.



---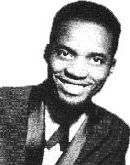 Ahmad Jamal
July 26, 1965
Born in Pittsburgh, PA in 1930, Ahmad Jamal's given name was Fritz Jones but upon converting to Islam around 1952 he began using Ahmad Jamal. He started playing the piano at the age of three and became interested in jazz during the bop era. He began playing professionally at 18 and shortly thereafter came to the attention of Miles Davis, who cited Jamal as an important influence. In 1951 he formed his first trio; he has continued to create a uniquely orchestral sound, defining the jazz trio for some 50 years. In 1958 he and his group recorded Ahmad Jamal at the Pershing, featuring the song "Poinciana," which became his signature tune. Jamal has been acclaimed for his cool post-bop style, melodic and rhythmic improvisations, dramatic pacing, dynamic effects, innovative small-ensemble arrangements, and use of musical space.


---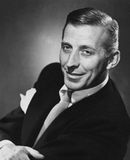 Stan Kenton
August 23, 1965
July 24, 1970
Stanley Newcomb Kenton was born in Wichita, Kansas, on December 15, 1911, and grew up in Los Angeles, California. After graduating from high school, he played in several small groups in Los Angeles, San Diego, and Las Vegas. He studied piano and composition, first with his mother, Stella, who sparked his profound interest in the impressionists; then with Frank Hurst, a theater organist; and with Earl "Fatha" Hines, whose piano lessons were often conducted in Hines's hotel room, using a cane-backed chair with a Masonite seat for a keyboard (both had good enough sense of pitch that they didn't need the actual piano).

In 1933 Everett Hoagland offered Stan the piano chair in his band, which played at the Rendezvous Ballroom in Balboa Beach, California, and whose book included charts by another youngster, Gil Evans. Hoagland, realizing audiences would respond more lucratively to a society band sound than to his current progressive sound, changed course and went on the road. Stan stayed behind with Hoagland's successor, Russ Plummer.

Kenton's bands, or orchestras, as he perferred to present them to the public (privately, they were always "The Band"), produced a string of alumni whose influence on jazz is incalculable, from folks everyone knows as alumni (June Christy, Gerry Mulligan, Lee Konitz, Maynard Ferguson, Kai Winding) to folks who you'd never associate with Stan Kenton's music (Stan Getz and Laurindo Almeida).

It's significant that Stan's music is found in the jazz section, and not the "big band" section of most record shops even today. By constantly pushing audiences to accept more challenging music, and by hiring the very best musicians and pushing them even harder, Kenton made it clear that his heart was always in the future of jazz, not in its nostalgic past. And in the process, he reaffirmed something too few musical directors, from rock through classical music, understand: audiences like good music.

With only the occasional years off to regain his health or his bankroll, or when he became fed up with the state of music (declaring at one point "Jazz is dead") and the 12 months when his final illness forced him to disband his orchestra for good, Stan kept a band on the road, pursuing and largely attaining his artistic visions, until his passing on August 25, 1979.



---

George Shearing
August 12, 1968
George Shearing enjoys an international reputation as a pianist, arranger, and composer. Equally at home on the concert stage as in jazz clubs, Shearing is recognized for inventive, orchestrated jazz. He has written over 300 compositions, including the classic "Lullaby of Birdland", which has become a jazz standard. Born in 1919 in the Battersea area of London, in 1947, he moved to America, where he spent two years establishing his fame on this side of the Atlantic. The Shearing Sound commanded national attention when, in 1949, he gathered a quintet to record "September in the Rain" for MGM. The record was an overnight success and sold 900,000 copies. His U.S. reputation was permanently established when he was booked into Birdland, the legendary jazz spot in New York. Since then, he has become of one of the country's most popular performing and recording artists.



---
Paul Whiteman and his Band
Many apperances in the 1950's

Paul Whiteman, popularly known as "Pops" and the "King of Jazz," was one of the most successful and influential bandleaders of the 1920s and 1930s. After playing the viola for the Denver and San Francisco symphonies, young Whiteman turned to popular music, applying his knowledge of orchestral music to jazz. He was the first bandleader to arrange jazz music instrumentally, as well as the first to feature vocalists, including female soloists. Beginning with his "Experiment in Modern Music" concert in 1924, when he debuted George Gershwin's Rhapsody in Blue, Whiteman made jazz respectable. Extremely popular and versatile, Whiteman and his orchestra played not only at prestigious concert halls, but also for private parties, especially those of the rich and famous. Whiteman was also involved in other entertainment media, performing on radio and television programs, appearing in films, providing music for Broadway musicals, and producing many record albums.