Menu
•

Home
•

"Sinjin" Terrell
•

Musicals & Plays
•

The Stars
•

Stars in the Making
•

Leading Roles
•

Supporting Casts
•

Concerts
•

Back Stage
•

The Tent and Grounds
•

Stories and Tales
•

Press Coverage
•

Facts and Trivia
•

Forum
•

Acknowledgements
---

Victor Borge
August 9, 1965
Victor Borge was born in Copenhagen, Denmark Januar 3, 1909, the son of Bernhard and Frederikke Rosenbaum. He was named Børge Rosenbaum, and his musical talent was no surprise as his father was a musician in the Royal Danish Chapel. He was educated at the Royal Danish Academy of Music by Olivo Krause, and later by Victor Schiøler, Frederic Lamond and Egon Petri. He had his piano debut in 1926 at "Odd Fellow Palæet" in Copenhagen and was recognized as a very talented musician.

During the 1930's he became one of Denmark's most popular artists. He started his career as a classical pianist, but his talent for making the audience laugh was soon obvious, and he started developing his unique blend of humour and music. He had his revue debut in 1933 and his film debut in 1937.

In 1940 he was forced to leave Denmark, and he travellled from Petsano to New York. Although he didn't speak English he soon managed to "translate" his humour, and he performed for the first time in Bing Crosby's radio show in 1941. In 1942 he was pronounced "the best new radio performer of the year" by the american press, and his radio and TV shows became extremely popular. He became an American citizen in 1948, and had his own show, "Comedy in Music", at The Golden Theatre, New York 1953-56.

He had performed as soloist and conductor with leading orchestras from 1956, and has performed as Opera Conductor, eg. Magic Flute, Cleveland Orchestra, 1979 and The Royal Danish Theatre, 1992. He established several trusts, and he received numerous honourable awards and honours. He was the patron of The Danish Royal Academy of Music Children's Choir.

Victor Borge died at home in his sleep, December 23rd, 2000.



---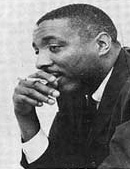 Dick Gregory
August 15, 1966
Appearing with Dizzy Gillespie
Richard "Dick" Claxton Gregory (born October 12, 1932 in St. Louis, Missouri), United States. Comedian, social activist, writer and entrepreneur.

As a child, his family fell into the "middle lower" class, financially. He was a track star in college, and spent two years in the U.S. Army. After his military service, he performed as a comedian in small, primarily black nightclubs. He worked for the U.S. Postal Service during the daytime. In 1961, he was hired by Hugh Hefner, to work with the Chicago Playboy Club. This is where he began to gather fame. He used the following line to wow an entirely white audience, prompting Hef to hire him:
Good evening ladies and gentlemen. I understand there are a good many southerners in the room tonight. I know the South very well. I spent twenty years there one night.
Last time I was down South I walked into this restaurant and this white waitress came up to me and said, "We don't serve colored people here." I said, That's all right. I don't eat colored people. Bring me a whole fried chicken."
Then these three white boys came up to me and said, "Boy, we're givin' you fair warnin'. Anything you do to that chicken, we're gonna do to you." So I put down my knife and fork, I picked up that chicken and I kissed it. Then I said, "Line up, Boys!"
(http://www.duckprods.com/projects/dickgregory/)
In a few years he was known nationally, appearing on television; his autobiography, Nigger was the best selling book in America, selling 7 million copies. He became more involved in struggles for civil rights, activism against the American War in Vietnam, economic reform, anti-drug issues, conspiracy theories, and others. As a part of his activism, he went on several hunger strikes.

Dick Gregory unsuccessfully ran for president of the United States in 1968 as a write-in candidate. He wrote Write Me In, about that political campaign. In recent years he has been a figure in the health food industry. Gregory married his wife, Lillian, in the 1960's, and they now have ten children. As of 2005, he resides in Plymouth, Massachusetts.


---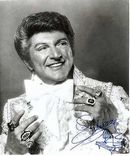 Liberace
September 4 thru 9, 1961
August 9 thru 14, 1966
Liberace turned to daytime television in 1960, with a series on ABC. In 1968 he returned to Europe to play to audiences in London. Liberace took Australia by storm in 1971, performed unprecedented third Royal Command Performance in London in 1972, and authored a best-selling autobiography, "Liberace." (His first book, "Liberace Cooks," went to seven printings.) Liberace continued to tour and perform in concert halls and auditoriums around the country and begins to establish his firm roots in Las Vegas.




---
Guy Lombardo
July 11, 1965
Gaetano Alberto "Guy" Lombardo (June 19, 1902 - November 5, 1977) was a Canadian bandleader and violinist. With his three brothers Carmen, Lebert and Victor and other musicians from his hometown of London, Ontario he formed the jazz band The Royal Canadians in 1924. The band played at the Roosevelt Hotel in New York City from 1929 to 1959, and their New Year's Eve broadcasts (which continued until 1976 at the Waldorf Astoria) were a major part of New Year's celebrations across North America. In 1938, he became a naturalized citizen of the United States. They were noted for playing the traditional song Auld Lang Syne as part of the celebrations. Their recording of the song still plays as the first song of the new year in Times Square.

Guy Lombardo was also an important figure in hydroplane racing, winning the Gold Cup in 1946 and the Ford Memorial competition in 1948. A museum in London is dedicated to his musical and hydroplane racing achievements. The museum is located near Wonderland Gardens, a venue closely associated with Lombardo and the Royal Canadians.



---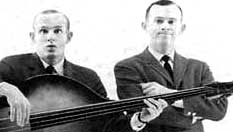 The Smothers Brothers
August 26 thru 28, 1966
The Smothers Brothers are an American musical-comedy team, formed by real-life brothers Tom and Dick Smothers. After a brief time in a folk group called the "Casual Quintet," the Smothers made their debut as a duo in 1959. They were a popular act in clubs and released several successful record albums.

The brothers' trademark act was performing folk songs (Tommy on acoustic guitar, Dick on stand-up bass), which usually led to fake arguments between the two siblings. Tommy's signature line was, "Mom always liked you best". Tommy (the elder of the two) acted 'slow', and Dick acted 'superior'. In real life Tommy was not 'slow' at all: He handled their business affairs and later gained fame as a yo-yo expert, The Yo-Yo Man, even starring in his own special program on television.

The brothers appeared on numerous television shows since the mid-1960s and hosted two shows of their own, the situation comedy The Smothers Brothers Show (1965-1966), in which Tom played an angel come back to earth, and then the variety show The Smothers Brothers Comedy Hour in 1967. The latter show became increasingly controversial for its references to youth culture, racism, and the Vietnam War, thus getting the comedians into regular conflicts with the network censors. The show also featured an impressive list of writers and regular performers who would eventually become some of the biggest names in comedy, like Pat Paulsen, Steve Martin, Don Novello, and Rob Reiner. CBS abruptly canceled the show on March 9, 1969, leading the brothers to file a successful breach of contract suit against the network. Despite the cancellation, the show went on to win the Emmy Award that year for best writing. The saga of the cancellation of the show is the subject of a 2002 documentary film, Smothered.

The Smothers Brothers had further shows: The Smothers Brothers Show (1975) and The Smothers Brothers Comedy Hour (1988-1989) and The Tom and Dick Smothers Brothers Specials I and II in 1980. The Smothers Brothers operate the Remick Ridge Vineyards in Sonoma County, California and as late as 2004 continued to tour.