Menu
•

Home
•

"Sinjin" Terrell
•

Musicals & Plays
•

The Stars
•

Stars in the Making
•

Leading Roles
•

Supporting Casts
•

Concerts
•

Back Stage
•

The Tent and Grounds
•

Stories and Tales
•

Press Coverage
•

Facts and Trivia
•

Forum
•

Acknowledgements
New York Rock & Roll Ensemble
August 31, 1969
From: Pioniere@aol.com
Date: Fri, 5 Jan 1996 Subject: 1st Concert
OK, what the heck...my first concert was the New York Rock & Roll Ensemble way back around 1968 [August 31, 1969, but who's counting?] at the Music Circus in Lambertville, NJ...anybody remember them (or even heard of them)? They were terrific (made at least five albums that I know of).


---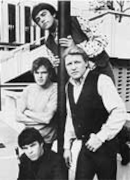 Paul Revere and the Raiders
July 24, 1966 (Sunday at 4 PM)

The sudden surge of Paul Rever and his rocking Raiders (Drake Levin, Philip Volk, Mark Lindsay, and Mike Smith) from Portland, OR somewhat parallels the Beatle's climg from Liverpool. Their mushrooming attention and music dominance of the northwestern United States prompted Columbia Reords to sign Paul Revere and the Raiders to their brilliant roster of stars. in May of 1966 their hit-record, Kicks, had already sold 500,000 copies, and the Just Like Us LP had passed the 250,000 mark.



---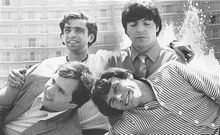 The Young Rascals
July 2, 1967 (Sunday at 4 PM)

Like many bands in 1967, the Rascals seemed to turn psychedelic overnight; that year's album Once Upon A Dream was trippy and blissed-out, though it produced only one minor hit, "It's Wonderful." Coming back to earth, the Rascals (now officially not "Young") began embracing meditation and civil rights; the anthemic "People Got To Be Free" was their last top ten hit, but the gospel-ish followups "A Ray Of Hope," "Heaven" and "See" were even better.

View NY Times ad



---