Menu
•

Home
•

"Sinjin" Terrell
•

Musicals & Plays
•

The Stars
•

Stars in the Making
•

Leading Roles
•

Supporting Casts
•

Concerts
•

Back Stage
•

The Tent and Grounds
•

Stories and Tales
•

Press Coverage
•

Facts and Trivia
•

Forum
•

Acknowledgements
---

Jack Goode
"Guys & Dolls" 1955 (Nathan Detroit)



Mr. Goode, who would appear at the Music Circus many more times, was a seasoned comedian of stage, screen, operettas, summer theatres, television and industrial shows. He made his debut with the Shuberts in "Hello Paris," and also appeared in "Princess Charming," "Face the Music," and "The Show Is On." A native of Columbus, Ohio, he attended Ohio State and was Lt. Jack Goode in the South Pacific, also dishing up entertainment for the troops in Guadalcanal, New Caledonia, and Vella Lovella. A long series of musicals at the major summer musical theatres brought him back to Broadway in "Gypsy Lady," after which he was off to Hollywood to work with Fred Astaire in such pictures as "Top Hat," "Flying Down to Rio" and "Swingtime," and he also staged Shirley Temple's dances in "Poor Little Rich Girl." One of the first comedians to appear in the musical arena theatres, he has worked not only here but with Cohasset, Hyannis, Warwick, Framingham, and Oakdale, starring in some sixty different roles, notably "Bells Are Ringing", "The Wizard of Oz", "Show Boat", "Naughty Marietta", "Guys and Dolls", "Babes in Toyland", "Good News", and "Louisiana Purchase". Broadway saw him again when he took over the role of Hines in "The Pajama Game" and when it closed he repeated the role on a six-month South African tour. Also on Broadway he played Dr. Moon in "Anything Goes", Mr. Applegate in "Damn Yankees", and Benny in "Desert Song" and was recently in the revival of "Oh Kay". Mr. Goode is the winner of the Ohio State Amateur Golf title and shares the course record for the Scioto Country Club with Sam Snead. On his farm near Frenchtown, NJ, he collects antiques, with emphasis on antique firearms.




---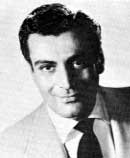 Mitchell Gregg
"The Merry Widow" 1955
"Guys & Dolls" 1955 (Sky Masterson)
"Kismet" 1955 (Caliph)

Mitchell Gregg first appeared at the Music Circus as Julio in "Paint Your Wagon" in 1953. He was also in "The Red Mill" in 1954, "Kiss Me, Kate" in 1954, and "The Merry Widow", and "Guys & Dolls" earlier this season.

Mr. Gregg's Broadway credits include:
"No Strings" Mar 15, 1962 - Aug 3, 1963
"The Unsinkable Molly Brown" Nov 3, 1960 - Feb 10, 1962
"Say, Darling" Apr 3, 1958 - Jan 17, 1959
"Happy Hunting" Dec 6, 1956 - Nov 30, 1957
"Music in the Air" revival, Oct 8, 1951 - Nov 24, 1951
"The Pajama Game".

On the night club circuit he appeared at the Versailles and the Diamond Horseshoe in New York, and on radio and television he was featured over the NEC network from California.


---

Gloria Hamilton
"After the Ball" 1955 (Lady Windermere)

Gloria Hamilton was first seen at the Music Circus as Julie Jordan in "Carousel" in 1952. She made her professional debut as guest soloist with Edgar Bergen; then followed a tour of the South Pacific in "Oklahoma!" in which she played Laurey. Her Broadway debut was in the same show. Her other New York shows include "The Chocolate Soldier" in 1947, "Lend an Ear" in 1950, "Courtin' Time" in 1951, and "Ankles Aweigh" in 1955.


---
Joan Mann
"Guys & Dolls" 1955 (Miss Adelaide)
"Kismet" 1955 (Supporting role of Samaris)

Actress, dancer, and choreographer, Joan Mann, is the choreographer for this year's production of "Kismet" as well as playing the supporting role of Samaris of Bangalore. She was seen in the Circus' 1954 production of "My Maryland". Miss Mann's Broadway credits include: "Of Thee I Sing" Revival, as Emily Benson and Asst. to the Choreographer May 5, 1952 - Jul 5, 1952
"Tickets, Please!" Choreographer Apr 27, 1950 - Nov 25, 1950
"Dance Me a Song" Assistant Director Jan 20, 1950 - Feb 18, 1950
"Small Wonder" Sep 15, 1948 - Jan 8, 1949
"Inside U.S.A." Apr 30, 1948 - Feb 19, 1949
"Park Avenue" Nov 4, 1946 - Jan 4, 1947
"Billion Dollar Baby" Dec 21, 1945 - Jun 29, 1946
"Yokel Boy" Jul 6, 1939 - Jan 6, 1940
"Great Lady" Dec 1, 1938 - Dec 17, 1938.


---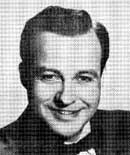 Ted Scott
"Kismet" 1955 (Hajj)

Ted Scott was previously seen at the Music Circus in 1952 as the lead in "Kiss Me, Kate", a role he played on Broadway, in which he replaced Alfred Drake. A concert singer, he won first prize in the Atwater Kent vocal competition and a tour of the concert halls throughout the United States. He later joined the National Company of "Oklahoma!" and before long he was playing Curly. He has also been a great favorite at the important light opera companies.


---

Dick Smart
"The New Moon" 1950
"The Cat and the Fiddle" 1950
"After the Ball" 1955 (Lord Windermere)

Dick Smart first appeared at the Music Circus in 1950 in "The New Moon" and "The Cat and the Fiddle". A nightclub entertainer, he has performed at such top spots as the Monte Carlo and the Versailles in New York, the Macambo and Trocadero on the West Coast, and at leading cabarets in London, Paris, Casablanca, and Tunis. On Broadway he was in "Two for the Show", "Bloomer Girl", and "All for Love".


---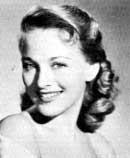 Paula Stewart
"Guys & Dolls" 1955 (Sarah Brown)
"Kismet" 1955 (Marsinah)



Paula Stewart made her debut at Lambertville in the previous show, "Guys && Dolls" as Sarah Brown. On Broadway she played the lead in "Seventeen" and she was the lovely Fiona in the touring company of "Brigadoon". A popular night club entertainer, she completed a 17-months engagement at the Versailles in New York earlier in 1955. On television she has been on the Perry Como, Jackie Gleason, and Arthur Godfrey shows.