Menu
•

Home
•

"Sinjin" Terrell
•

Musicals & Plays
•

The Stars
•

Stars in the Making
•

Leading Roles
•

Supporting Casts
•

Concerts
•

Back Stage
•

The Tent and Grounds
•

Stories and Tales
•

Press Coverage
•

Facts and Trivia
•

Forum
•

Acknowledgements
---

Mitzi Green
"Gypsy" (Mama Rose) 1961

In vaudeville with her parents' act from the age of 3, Mitzi Green rose to popularity in a series of Paramount films in the early talkie era. Sometimes cast in such conventional juvenile parts as Becky Thatcher in Tom Sawyer (1930) and Huckleberry Finn (1931), Green was given more scope in musicals and comedies in which she regaled audiences with her dead-on impressions of such celebrities as Greta Garbo and George Arliss. Maturing rather quickly, 14-year-old Green was seen in a grownup soubrette role in Transatlantic Merry-Go-Round (1934), the film that closed out the first stage of her Hollywood career. She went on to Broadway, where she starred in the original production of Lorenz and Hart's Babes in Arms. Green made one more film in 1940, then went back to stage and nightclub work, reemerging on the big screen opposite Abbott and Costello in Lost in Alaska (1951) and Mitzi Gaynor in Bloodhounds of Broadway (1952). In 1955, Green co-starred with Virginia Gibson and Gordon Jones in the slapstick sitcom So This is Hollywood (1955), in which she played a hoydenish stuntwoman. Mitzi Green died of cancer in 1969 at the age of 48; she was survived by her husband, film director Joseph Pevney. ~ Hal Erickson, All Movie Guide



---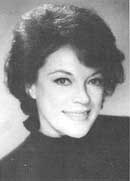 Grayson Hall
"No Strings" 1964

In the summer of 1963, John Huston was casting the film version of Tennessee Williams' play, Night of the Iguana. Almost in spite of herself, Grayson won the pivotal supporting role of Judith Fellowes. It's worth noting that although publicity emphasized the explosive intersection of Richard Burton and the high-powered trio of Ava Gardner, Deborah Kerr and Sue Lyon, the trailer for the film featured no less than three appearances by Grayson (most memorably standing on the beach and shrieking "You beast!" at an oblivious Burton). Critics were impressed and she won an Oscar nomination which in turn led to still more attention for her within the industry. A publicity photo snapped the day after the nominations were announced pretty much sums up Grayson's own ambivalent attitude to the whole affair: it shows Grayson, at an antiques fair, siting down the barrel of a very sturdy-looking rifle pointed directly at the photographer. The star shooting the paparazzi.







---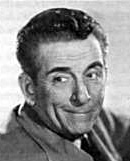 Edward Everett Horton
"Springtime for Henry" 1963

Often mistaken for an Englishman, actor Edward Everett Horton was actually born in Brooklyn, the son of newspaper print-machine operator. Horton left Oberlin College in his junior year to pursue his dreams of becoming a stage actor, receiving his training at Brooklyn's Polytechnic Institute and then at Columbia University, where he made his first stage appearance in a variety show. Knocking about professionally as a chorus boy and stage manager, Horton was given his first leading role as a Japanese prince (hardly typecasting for the gangly, puck-faced actor) in the venerable stage melodrama The Typhoon. Thereafter, despite a few forays into heavy drama, Horton specialized in comedy, occasionally giving movies a try as a light leading man; his film debut was 1921's Too Much Business. By the end of the 1920s, Horton was managing the Majestic Theatre in Los Angeles, casting his fellow character actors in the meaty, demanding roles often denied them by the movies. He also helped train several silent film leading men and ingenues to use their voices properly in stage work, to prepare them for talking pictures. Horton was pretty much locked into second lead and supporting roles in the 1930s and 1940s, most notably in the delightful Fred Astaire-Ginger Rogers musicals at RKO. After a decade-long concentration on theater, usually touring as star of the reliable stage vehicle Springtime for Henry, Horton resumed his film career in 1957, which he maintained until his death. In the 1950s and 1960s, Horton suddenly found himself a favorite of the younger set thanks to his narration of the "Fractured Fairy Tales" segment on the legendary TV cartoon series Rocky and His Friends, and his semi-regular appearances as medicine man Roaring Chicken on the western situation comedy "F Troop". ~ Hal Erickson, All Movie Guide



---

Larry Kert
"West Side Story" (Tony) 1960

He was born Frederick Lawrence Kert on December 5, 1930 in Los Angeles, California. His first professional credit was in a Broadway revue called Tickets, Please! (1950), as a member of a theatrical troupe called the Upstarts. After the seven-month run, he worked sporadically until 1957, when he was cast as Tony in the Arthur Laurents-Leonard Bernstein-Stephen Sondheim musical West Side Story, a modernized adaptation of Romeo and Juliet set in upper Manhattan.

For several years, Kert experienced a streak of seriously bad luck. A Family Affair limped along for three months in early 1962. He was a member of the cast of the infamous ill-fated musical version of Truman Capote's novella, Breakfast at Tiffany's, which closed during previews in December 1966. His next project, La Strada (1969), closed on opening night.

His big break came at the expense of another actor. Dean Jones, better known for his roles in Disney films than he was as a musical performer, had been cast as the lead in Sondheim's Company (1971), but clearly wasn't capable of handling the demands of a eight performances a week. Soon after opening night (and mediocre reviews), he was replaced by Kert; the critics returned a second time and raved about his dynamic performance. So acclaimed was he that the Tony Awards nominating committee that year allowed him to compete as Best Actor in a Musical, an honor usually allowed only for the performer who originates the role. Kert died on June 5, 1991 in New York City from AIDS-related complications.



---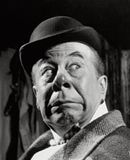 Bert Lahr
"DuBarry Was a Lady" 1959

Bert Lahr, born Irving Lahrheim, (August 13, 1895 – December 4, 1967) was a Jewish-American comic actor. Fittingly born a "Leo" in New York City, he is best remembered today for his role as the Cowardly Lion (and the farmworker "Zeke") in the classic 1939 movie The Wizard of Oz, but known during his life for a career in burlesque, vaudeville and Broadway.

Dropping out of school at the age of fifteen to join a juvenile vaudeville act, Lahr worked his way up to top billing on the Columbia Burlesque Circuit. In 1927 he moved to Broadway plays as a comic actor, performing classic routines such as The Song of the Woodman (which he later reprised in the film "Merry-Go-Round of 1938"). Among Lahr's theatrical hits in the 1930s included co-starring with Ethel Merman in "DuBarry Was a Lady".

Aside from The Wizard of Oz, his movie career never caught on, possibly because his gestures and reactions were too broad for that intimate medium. His later life was troubled, although he made the transition to straight theatre, particularly in a much-praised version of Waiting for Godot, in which he played Estragon to Tom Ewell's Vladimir. Lahr thought of himself as the "top banana" in the production, telling Ewell "not to crowd him" (when he learned of this, Beckett complained that the play was being taken away from his "major character", Vladimir).

He also performed in television commercials, including a memorable series for Lay's potato chips during its long-running "Betcha can't eat just one" campaign. Among other Broadway roles, Lahr played Queen Victoria in a sketch from the musical "Two on the Aisle." He also performed as Moonface Martin in a television version of "Anything Goes" with Ethel Merman reprising her role as Reno Sweeney and Frank Sinatra as Billy Crocker. In the 1950s, Lahr supplied the voice of an animated bloodhound in "Old Whiff", a short cartoon produced by Mike Todd which featured the olfactory Smell-O-Vision process developed for Todd's feature film "Scent of Mystery".

The more soft-spoken aspect of Lahr's broad-ranging vocal characterization of the Cowardly Lion was a strong influence on the voice used for the Hanna-Barbera cartoon character Snagglepuss.

Lahr died in 1967 in the middle of filming The Night They Raided Minksy's, forcing producers to use a double in several scenes. Fittingly, this last role was as a burlesque comic.

His son, New Yorker theater critic John Lahr, wrote a biography of his father's life titled Notes on a Cowardly Lion.



---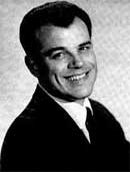 Julius LaRosa
"What Makes Sammy Run" (Sammy Glick) 1966

Born January 2, 1930, New York City, New York, USA. La Rosa grew up listening to records by singers such as Frank Sinatra and bands including Tommy Dorsey and Glenn Miller. After finishing high school he joined the US Navy and during this period of service he sang with the US Navy Band in Washington, DC, where he was heard by Arthur Godfrey who told him to come and see him when he was discharged. La Rosa did so and within a week of leaving the navy, he was appearing on Godfrey's television show. For two years from November 1951, La Rosa was a member of the hugely popular CBS TV series Arthur Godfrey And His Friends.

Although kept very busy with the Godfrey show and other in-between engagements, La Rosa also took singing lessons with Carlo Menotti. Starting in 1952, he also made records for Cadence Records, a company formed by Godfrey's orchestra leader, Archie Bleyer, apparently for the express purpose of recording La Rosa. His first release was "Anywhere I Wander' and it went straight into the national Top 30. His follow-up was less successful but the third, 1953"s, "Eh, Cumpari", reached second spot on the charts and La Rosa won awards and acclaim. On 19 October 1953, however, shortly before the record's release, La Rosa was fired on air by Godfrey. This action lowered the public's esteem of Godfrey, and his career soon afterwards went into decline. Meanwhile, the incident served to boost awareness of the singer and his next release, "Domani (Tomorrow)", was another hit. A string of hits followed in the late 50s, including "Suddenly There's A Valley", "Lipstick And Candy And Rubbersole Shoes", "Get Me To The Church On Time", and "Torero".




---

Shari Lewis
Music Circus Resident Dancer 1950
"Damn Yankees" (Lola) 1963 (Scheduled Only)

Emmy Award-winning children's television star, who charmed parents and children alike for more than 40 years with her woolly hand puppet Lamb Chop and his sidekicks Charlie Horse and Hush Puppy. Shari Lewis "the puppeteer to the baby boomers" was once described as having "childlike excitement, an entertainers savvy and a librarian's heart." She began her career by winning three appearances on ARTHUR GODFREY'S TALENTS SCOUTS radio program in 1952, and followed that success by starring in KARTOON CLUB on WRCA-TV in 1953. Set in the fairy town of Kartoonia, host Shari Lewis interacted with Taffy Twinkle, a girl puppet (a redecorated turn of the century "Willie Talk" doll); Randy Rocket, an outer space dummy that she taught the ways of the Earth; and Pip Squeak, a rubber-faced monkey who never spoke. She later appeared on her own local New York program SHARI AND HER FRIENDS in 1954. Her big break came in 1956 when she appeared as the niece of Mr. Greenjeans (Hugh Brannum) on the nationally televised CBS children's program CAPTAIN KANGAROO.

During her career, she won 12 Emmys and a Peabody, entertaining and educating children. Lewis also wrote more than 60 children's books. Her television shows included The Charlie Horse Music Pizza and Lamb Chop's Play-Along. Ms. Lewis died: August 2, 1998 in Los Angeles, CA.




---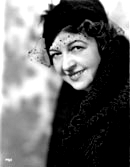 Kathryn Meisle
"On the Town" 1957

Born: October 12, 1899 - Philadelphia, PA
Died: January 17, 1970 - New York, NY

The American contralto, Kathryn Meisle, began her music studies already when she was five years old, and gave concerts when she was nine. When she was 15 years old, she played as pianist in a silent movie cinema in Philadelphia. In 1912 she became a soloist at the Christian Episcopal Church in Philadelphia and sang then also in a vocal quartet. In 1915 she won the National Singing Competition, which was organized by the National Federation of Music Clubs, and decided thereupon to study singing, which she began in Philadelphia.

In 1920 Kathryn Meisle made her debut as concert alto singer with the Minneapolis Symphony Orchestra. In 1923 she made her stage debut at the Opera of Chicago as Erda in Siegfried. Until 1935 she appeared with big success in Chicago as Maddalena in Rigoletto, as Preziosilla in Verdi's La forza del destino, as Madelon in Andrea Chénier by Giordano, later as Azucena in Troubadour and as Cieca in La Gioconda by Ponchielli. During those years she also made guest appearances in San Francisco (debut in 1926 Aida as Amneris) and in Los Angeles, and in 1930 undertook a concert tour to Europe. In 1935 she started an engagement at the Metropolitan Opera in New York (start role: Amneris in Aida), to whose ensemble she belonged until 1938, and performed there roles as Azucena, Fricka, Erda and Waltraute in Nibelungen-Ring. She sang also in operettas and created, among other things, in 1950 in New York the musical Roberta by J. Kern.

Kathryn Meisle had great concert career, particularly as oratorio soloist. She sang at the Festivals of Cincinnati, Worcester, Springfield and Newark and became particularly estimated as soloist in Matthäus-Passion (BWV 244) by J.S. Bach.

Recordings: HMV Victor acoustic photographs of Ballads; electrical recording of Matthäus-Passion (BWV 244) under Serge Koussevitzky); Some records on Decca and Columbia; Private recordings from the Metropolitan Opera, among them on ANNA-Records scenes from Götterdämmerung.







---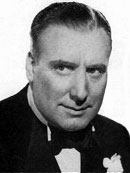 Alan Mowbray
"Tenderloin" (Reverend Brock) 1961

Alan Mowbray was of the stiff-upper-lip school of British actors. He was tall, of rigid posture, well groomed with an aristocratic air about him and excellent diction. He was often cast as British or European gentlemen, butlers, doctors, aristocrats and Royalty. He was born Cedric Alan Mowbray on August 18, 1896 in London, England. He started acting on the English stage and eventually toured the U.S. with his company the Theatre Guild from 1923-29. He was an occasional screen writer but gave it up for acting. He became a naturalized U.S. citizen in 1933. He was married to Lorraine Carpenter and had two children. He was a founding member of the Screen Actors Guild. His credits include over 100 films a well as many TV roles. He died of a heart attack on March 25, 1969 in Hollywood, California at age 72.




---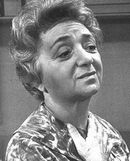 Molly Picon
"Majority of One" (Mrs. Jacoby) 1961

Molly Picon (1898-1992) had a long and distinguished stage career and was considered to be the pre-eminent actress of Yiddish theatre in the United States.

She was brought up in Philadelphia where, a the age of six, she began performing in tramcars and local nickelodeons. She left school in 1915, determined to have a stage career and was eventually cast as Winter in 'The Four Seasons', a travelling English-language vaudeville production. Six month later, when the company reached Boston, the city was in the grip of an influenza epidemic. The only theatre still open was the Boston Grand Opera House, which was presenting Yiddish theatre. She applied for an acting job and was immediately hired.

The following year, she and her husband embarked on a two-year European tour of Yiddish plays. Although only 4ft. 11in. and weighing less than 100 pounds, she had enormous stage presence. Further successes followed and, in the 1930s, she delighted audiences not only in the theatre but during her extensive tours of Europe and South America.

During and after the Second World War, she performed extensively, not only in theatres but also for the sick, American troops, and Jewish Holocaust survivors. Although remaining strongly committed to the Yiddish language and culture, as the Yiddish theatre declined, she sought to expand her roles. In 1960, she performed in a successful London production of Majority of One. She went on to star in the Broadway hit Milk and Honey in which she played an American widow looking for a new husband in Israel. She was then played an Italian mother opposite Frank Sinatra in Neil Simon's screen adaptation of Come Blow Your Horn (1963). For this part – in her first Hollywood film – she was nominated for an Oscar. She continued to perform well into her eighties.





---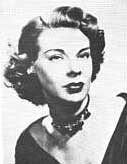 Joyce Randolph
"Plain and Fancy" 1956

Best known as "Trixie Norton" on The Honeymooners, Joyce Randolph was one of four actresses to play the role of "Trixie." Born Joyce Sirola in Detroit, Michigan, October 21, 1925, her acting career began at the age of nineteen when she joined a touring company of the play "Stage Door". She made her Broadway debut in A Goose for the Gander, and got involved with television during its earliest days. She first worked with Jackie Gleason when he appeared on the TV series Cavalcade of Stars.




---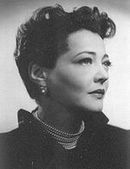 Sylvia Sidney
"Auntie Mame" (Mame Dennis) 1958

Sylvia Sidney (born Sophia Kosow in Bronx, NY August 8, 1910), whose career spanned some seven decades, worked with director Tim Burton in Beetlejuice. She established her screen persona as a Depression Era working-class heroine in such films as Dead End, Street Scene, An American Tragedy, Fury, and Alfred Hitchcock's Sabotage. After retiring from movies in the mid-1950s to focus on her stage work, she returned to the big screen in 1973's Summer Wishes, Winter Dreams, which earned her Academy Award and Golden Globe nominations. Since then, Sidney appeared in such films as God Told Me To, I Never Promised You a Rose Garden, Damien: Omen II, Hammett, and Used People, and on television in such acclaimed telefilms as Finnegan Begins Again, An Early Frost, Shadow Box, and Pals. Ms. Sidney died in 1999.




---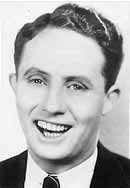 Bert Wheeler
"Showboat" (Captain Andy) 1958
"Ziegfeld Follies" 1959
"Showboat" (Captain Andy) 1964

Having acted onstage since boyhood, in his early 20s he and his wife headlined as a vaudeville comedy team; several years later they became Broadway stars in The Ziegfeld Follies. In 1927, Ziegfeld teamed him with Robert Woolsey in the Broadway musical Rio Rita; they reprised their roles in the musical's film version (1929), launching a screen career as a very successful comedy team until Woolsey's death in 1938. Wheeler appeared in Broadway shows and on the road, and also made a few more films. He was a regular on the '50s TV series Brave Eagle. In the '60s he performed in New York and Las Vegas nightclubs.



---