Menu
•

Home
•

"Sinjin" Terrell
•

Musicals & Plays
•

The Stars
•

Stars in the Making
•

Leading Roles
•

Supporting Casts
•

Concerts
•

Back Stage
•

The Tent and Grounds
•

Stories and Tales
•

Press Coverage
•

Facts and Trivia
•

Forum
•

Acknowledgements
Hundreds of thousands of people over the years enjoyed performances at the Music Circus. To some of them the experience left an indelible memory.
If you have one for this page,

let me know in an email.




Vanilla Fudge Memory
From: gbrickson
Date: Sep 23, 2002
One year before I discovered any herbs to make the music even better, I had become a Vanilla Fudge fan. I went to see them perform in concert at St. John Terrell's Music Circus in Lambertville, New Jersey, about 30 minutes north of New Hope, Pannsylvania. The concert was great. I guess no one told the band, though, that the stage revolved, and the standard procedure was that when a musical group appeared, the stage would move 90 degrees after every third song. When the wires were stretched too taught, after the sixth number, the plug to the Leslie speaker was pulled out. We had an unplanned ten minute intermission...


Back to Vanilla Fudge

---
Gary Puckett and the Union Gap Memory
From: Greg Otto
Date: Apr 20, 2006
I remember that Gary Puckett and the Union Gap had scheduled a concert at the Music Circus sometime in the Summer of 1968. Somehow, they had also scheduled a concert at Central Park in New York on the same day and pretty close to the same time. I recall that there was an announcement that the band would be late and then a while later the sound of helicopters could be heard outside the tent. And that was how they arrived, literally out of the air. Anyway, the show went on and was quite enjoyable, with the guys attired in those classic Civil War looking uniforms.

Back to Gary Puckett and the Union Gap - 1968
---
Marilyn McCoo and the Fifth Dimension Memory
From: Kenneth W. Host
Date: Nov 24, 2006
I appreciate your dedication to this web site. On my birthday June 24, 1968, I attended a Fifth Dimension concert at the Music Circus. The weather was perfect and with the rotating stage, we all got a great view. After the concert, one of my Rutgers classmates went "backstage" with me and introduced himself to a then unmarried Marilyn McCoo. I remember him arranging a date with her, but I don't know if it ever occurred. The memories are great and it's nice to see that you have preserved them for us.
Thank you, Kenneth W. Host

Back to The Fifth Dimension - 1968
---

The Music Circus from my aunts front porch Memory
From: Devan
Date: Aug 16, 2009
Back in the 1960's, I use so spend my summers, along with my younger brother and sister, at our beloved Aunt Lil's house, right on the highway leading to the Music Circus. She had a wonderful front porch, complete with awnings, and rocking chairs, and we use to sit on that porch, and just watch in awe, of the line of traffic that use to pass by, on their way to see some fabulous show at the Music Circus. There were actual evenings, when the traffic would be at a standstill, and I would wish that we too could go to a show. Back then, what music! What talent! The Young Rascals, the Four Seasons, The Cowsills, the Association, Jay Black and the Americans, Wayne Newton, Liberace, wow!! We would just be so excited on the fact of who was going to be there any given night!!!
That place was remains a special memory of my childhood, back when life was so innocent and easy....
I finally got to see some of the artists who had performed there over the years, just saw Felix Cavaliere of the Young Rascals last evening...
So, the memories of the music from way back then,remains alive, and preserved, in a special place...

---

Montessori Children's Village of Bucks County Pennsylvania Memory
From: Rich Balin
Date: Jun 27, 2012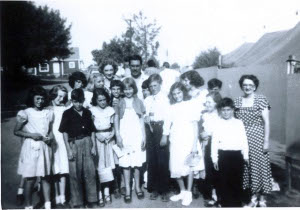 1949 photo of Montessori children posing

in front of Susan Foster and Wilbur Evans

outside the Music Circus tent to the right.

View larger version.



While gathering alumni for our facebook page, www.facebook.com/montessorichildrensvillage, we are assembling our old photos and came across this one....every summer we would attend the Circus...this photo is from 1949 and with Susan Foster and Wilbur Evans in the background, I believe it could have come from "The Merry Widow"....in '50 I remember attending "Anything Goes"....the Music Circus led my sister Ina Balin and Me to careers in the Theatre and films....
All the best, Rich Balin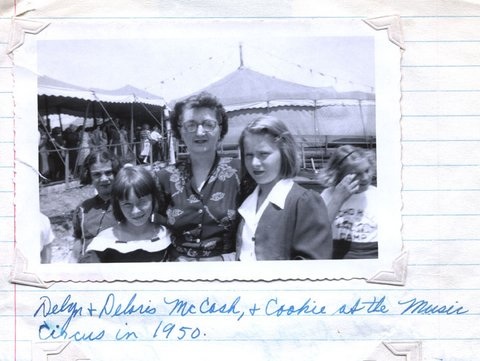 Montessoris at the Music Circus
---