Menu
•

Home
•

"Sinjin" Terrell
•

Musicals & Plays
•

The Stars
•

Stars in the Making
•

Leading Roles
•

Supporting Casts
•

Concerts
•

Back Stage
•

The Tent and Grounds
•

Stories and Tales
•

Press Coverage
•

Facts and Trivia
•

Forum
•

Acknowledgements
St. John Terrell
Actor, Impresario, Creator of the Music Circus
Born: December 12, 1916, Chicago, Illinois
Married: Elrita Bartholomew, September, 1952
Died: October 9, 1998, Ewing Township, New Jersey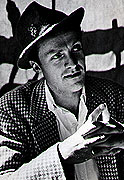 St. John "Sinjin" Terrell, "contracted incurable theater-itis" early on. He was the first Jack Armstrong on the radio series, Jack Armstrong, All-American Boy. (see http://www.rusc.com) He worked as a fire-eater in a carnival when he was 16 years old. Later in life, his daring feats continued, when as a producer, he launched two prominent professional summer theaters in this region. In 1939, he produced the Bucks County Playhouse's first season. He opened with a hit, Springtime for Henry starring Edward Everett Horton (which he revived 25 years later at the Music Circus), followed through with a successful season, and closed with a profit. In 1949, he created and produced the country's first commercial arena-type theater under a tent, the Lambertville Music Circus, which he ran until 1970. He originated the re-enactment of Washington's Crossing of the Delaware in 1953 and for 25 years on Christmas day he played the role of George Washington. He was an actor on Broadway in the 1930s, appearing in Elmer Rice's Judgement Day and Maxwell Anderson's Winterset. He has regularly appeared in television commercials throughout the years. He nurtured his interest in United States folk culture as a member of the Board of Directors of the Folk Culture Center of the Library of Congress.




---
Terrell and the Buck County Playhouse
---


The Bucks County Playhouse has a long history. A local group, including Producer St. John Terrell, Broadway music arranger Don Walker, and Broadway producer Moss Hart, who lived in Bucks County, opened the playhouse in New Hope on July 1, 1939 with a production of "Springtime for Henry" featuring Edward Everett Horton. The building, a grist mill situated on the Delaware river, dating from the late eighteenth century, had been in danger of demolition when Mr. Hart and the local community rallied to renovate it into a theater. The original structure was built in 1790, when Benjamin Parry's Hope Mills burnt down and he rebuilt them as the New Hope Mills, inspiring a change of the village's name from Coryell's Ferry (an enterprise no longer in existence) to New Hope, PA.

The theater, located just ninety minutes from New York City, was the venue for some Broadway tryouts, but more significantly, a place that developed a litany of future and current stars of Broadway and Hollywood including Lillian Gish, June Lockhart, Kim Hunter, George C. Scott, Colleen Dewhurst, Kitty Carlisle, Bert Lahr, Ruth Gordon, Helen Hayes, Claude Raines, Shirley Booth, Grace Kelly, Robert Redford and Walter Matthau.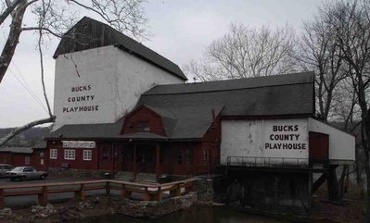 "It is safe to say that Terrell, along with long-time Playhouse producer Mike Ellis, gained more fame for the New Hope-Lambertville area than any other persons."

---
---
Terrell and George Washington
---

Who crossed the Delaware River on Christmas Day? It all depends on the year. In 1776, it was the father of our country; from 1953-1977 it was Round Tabler St. John Terrell.
Mr. Terrell passed away in October at 81. he was a Chicago born actor who made his name as a theatrical manager, founding the Bucks County Playhouse in 1939 and the Lambertville (N.J.) Music Circus some years later. In 1953, Mr. Terrell, with six friends a-rowing, played George Washington as a one shot publicity stunt for the Music Circus.
The idea caught the public's fancy and is continued to this day by the Washington Crossing Foundation. Ah, an actor's life for me! In case you're wondering who replaced Mr. Terrell in 1978, it was longtime crewman Jack Kelly, Princess Grace's brother.


---
Terrell and New Jersey Council on the Arts
---

New Jersey State Council on the Arts Mourns Loss of Founding Member St. John "Sinjin" Terrell, one of the founding members of the New Jersey State Council on the Arts, died this October at the age of eighty-one. Among Mr. Terrell's many contributions to the arts in New Jersey was the creation, in 1949, of the Lambertville Music Circus. The Circus, which closed its doors in 1970, was considered by many to be one of the preeminent musical theaters in the nation. Residents of Mercer and Hunterdon Counties will remember Sinjin Terrell best for his recreation of George Washington's historic crossing of the Delaware River, a tradition Mr. Terrell began in 1953 and continued for twenty-five years.



---
Terrell mystery
---

I found a web page, http://www.eofftv.com/episodes/r/robert_montgomery_presents/mr_and_mrs_monroe_main.htm, that credits a St. John Terrell with a script of a James Thurber story for "Robert Montgomery Presents: Mr. and Mrs. Monroe" [1955]. Does anyone know anything about this?? Perhaps is has something to do with his production at the off broadway Theatre de Lys in March 7, 1955 of "Three by Thurber", a play adapted from Thurber's Short Storied by him and Paul Ellwood.